That's how it's done!
The Winners
Las Vegas: Teams from across the nation put their dodgeball skills to the test for a chance to win part of the cash purse. Each team, unique in their style of play, added to the excitement of the tournament.
The talent level was amazing and the competition was tough, but that didn't stop anyone. The NDL would like to thank each and every one of them for coming out and joining us.
Open Division
1st place
Wholesale Home Loans, Utah
Coed Division
1st place
Mullet Removal Team, Minnesota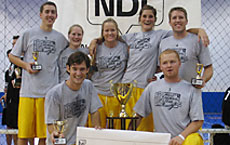 Open Division
2nd place
Those Guys, Alaska
Coed Division
2nd place
Those Guys, Alaska
Last Man Standing
Chase of the All American Apostles, California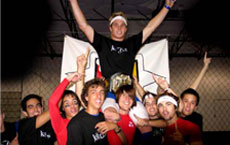 Last Man Standing Belt

1st Prize Trophy
Copyright © 2005, National Dodgeball League, All Rights Reserved, 1011 First Street S. Ste. 109, Hopkins, MN 55343