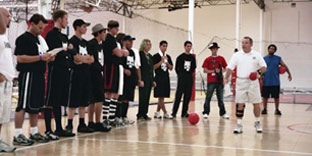 The break down of the rules.
Referee Training
When can you get hit in the head and still be called out? What's a retriever? When's a ball dead? Can you catch a ball and go out of bounds? What's an open or closed court? What's exactly is a sacrifice fly? All these questions and more were answered at the first ever NDL referee training course in Las Vegas This Fall.
Twenty people from around the country gathered at Caesar's Palace to get a first look at the National Dodgeball League's, yet-to-be-unveiled rulebook. Attendees included league and tournament administrators, event coordinators, referees from other sports, and individual players who wanted the latest rules.
After the discussion at Caesar's Palace the group headed to the courts for practical review. Finally their knowledge was put to the test, a written test, which was given to see who qualified to be part of the first group of certified NDL referees. Some participants were called upon to act as officials at the tournament.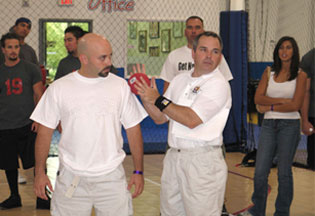 If it hits him...
Get Ready!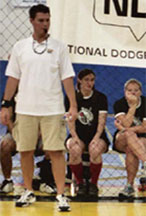 Watching the line.
Copyright © 2005, National Dodgeball League, All Rights Reserved, 1011 First Street S. Ste. 109, Hopkins, MN 55343