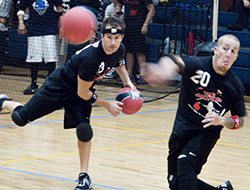 The Janitors in action.
THE 2008 DIVISION CHAMPIONS
Every year the level of play increases. We saw talented new teams, Tour Stop Champions and DWC Champions returning to defending their titles. It's amazing the level of skills and teamwork we saw over the weekend.
More dodgeball equals more fun. This year we added two new divisions the Open 8.5 and Co-ed 8.5. Played with six 8.5" balls and a wider neutral zone, these divisions requiring new strategies and tactics. A popular addition, many teams competed in all divisions.
Thanks to all who participated. We look forward to seeing you next year and at upcoming Tour Stops around the country as the dodgeball season heats up.
Open Stinger Division :: Rise of Brutality
The noise was incredible as Rise of Brutality and Triple-A hit the court. Both teams brought a lot fans with them, and they weren't disappointed as these two teams battled it over the Stinger division title. We were all on the edge of our seats as Rise of Brutality took their final victory.
Open 8.5 Division :: Triple-A
After a grueling Open Stinger match. The 2006 open division champions Triple-A faced the defending 2008 Co-ed Division Champions, the Portland Reign. In a wild match with fans on their feet screaming the whole game, Triple-A prevailed taking home the Open 8.5 Championship while making a little dodgeball history.
Co-ed Stinger Division :: The Janitors
Defending their 2007 title the Portland Reign was back. This time facing the Janitors from San Diego, a West Coast battle for the Dodgeball supremacy. The balls flew fast and furious as the Janitors, worked together to upset the reigning champs. Congratulations to the Janitors our 2008 Co-ed Stinger Division Champions.
Co-ed 8.5 Division :: The Janitors
These teams just can't seem to get enough dodgeball. For a second time the Janitors faced off against the Portland Reign. A revenge match for Portland and they looked just a strong as ever as they entered the court. The Janitors hyped from their Stinger division win were on fire and pulled off a 2nd victory of the weekend the and took home the Co-ed 8.5 Division