The hit of the 2008 DWC was the Last Man Standing. Over 150 players moved around the court while Dodgeballs flew from every direction. It was chaos! It was a blast! It was everyone for themselves and there could be only one. Congratulations to Jonny from Triple-A, you're the one, the 2008 Last Man Standing.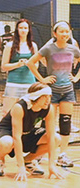 High or low.
Teammates, one on one.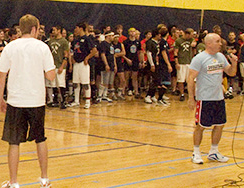 The Commissioner lays down the rules.
The 2007 LMS
Copyright © 2008, National Dodgeball League - 1011 1st Street South Ste. 109, Hopkins, MN 55343 - Phone: 952.931.0404