Teams from around the US, Canada and Denmark gathered among the glitz and glimmer of Las Vegas to compete in this ultimate dodgeball weekend.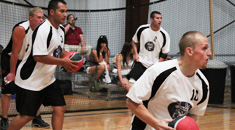 THE 6TH ANNUAL NDL DODGEBALL WORLD CHAMPIONSHIP
What a fantastic Dodgeball World Championship and Convention. We hope you all enjoyed yourselves. Thanks to all the teams, volunteers and fans who participated and help make this the best DWC so far.
On August 14,15 & 16th, teams from Canada, Denmark, California, Utah, Illinois, Arizona, Wyoming, Oroegon, Philadelphia, Texas, Florida, and Tennessee converge, along with freelancers from around the US on dodgeball courts for a chance to become the next Dodgeball World Champion.
The DWC is the premier dodgeball event on the planet. Teams from around the globe meet for a weekend filled with fun and friendly dodgeball competition.
If you miss the DWC this year, put your team on high alert and Sign-up for the NDL email list, because "You're either in or you're out."